The Ireland XO website mostly reflects the structure of the civil Parish division in Ireland. This means that you must know your civil parish if you wish to join a parish community. But what do you do if you only have a Roman Catholic Parish name?
The different types of Irish Parishes
You may not realise that in Ireland different TYPES of Parish exist. These include the civil and the ecclesiastic parish. Sometimes this can get a little confusing but it is really important to know and understand the differences between these two geographical areas so that you can join our website. If they emigrated your ancestor might have used the civil and church parishes interchangeably depending on the document. 
In their origin, the 'parish' referred to an ecclesiastical administrative area where the jurisdiction was controlled by the clergy. In the 16th century, things changed somewhat when the Reformation brought an end to the monastic orders in the country. As the suppression of the catholic clergy continued these medieval parishes diminished further. As the two religions came to reside together the civil structure developed into the parish structure of the Established Church. Meanwhile the Roman Catholic Church had to adapt to a new structure, increasingly around growing villages and towns. Indeed new Catholic parishes are still being created in modern times.
There are about 2,500 civil parishes in Ireland. 
Irish Registration Districts 
We are slipping this in here, not to confuse but to clarify a difference. 'Civil' or 'State' records should not be confused with the notion of the civil parish. These records were recorded and collected by the Local Registrar according to registration district (usually named the closest large town). They record events like births, deaths and marriages. The information they contain is outlined below.
---
Civil Register of Births, Marriages and Deaths in Ireland
Civil registration started for non-Catholic marriages in 1845 while civil registration for all births, marriages and deaths became obligatory in 1864. These were collected by the local Registrar according to registration district (usually named the closest large town). Before this time your ancestor will not have a civil birth, marriage or death record. The 1922 division of Ireland creates an additional issue when it comes to accessing records - some are retained in Belfast and the remainder in Dublin. Suffice it to say, you can easily search for these records online and obtain copies either for research or for official business like applying for a passport. Online access to the index of births (over 100 years), deaths (over 50 years) and marriages (over 75 years) can be found on Irish Genealogy. You can also check out Roots Ireland  Family Search, Find My Past and Ancestry.
Generally the records contain the following:
Birth: date & place of birth, first name if given, surname of child, name, surname, dwelling place and occupation of father, name, surname, dwelling place of mother, informant
Marriage: date of marriage, name of parties, ages, condition (widow etc), occupation, residences at time of marriage, fathers's details (name, surname occupation), place ceremony performed and name of witnesses
Death: date and place of death, name and surname of deceased, condition (married, widow etc),  age at last birthday, occupation, cause of death, informant details (present at death)
The address for the relevant repositories are below. You can request research copies of certificates for €4 from the GRO if you state this on your online purchase form.
Email Address: gro@groireland.ie
By Telephone: Direct Dial: +353(0)90 6632900 
LoCall: 1890 252076 (from Ireland only)
By Post: 
General Register Office,
Government Offices,
Convent Road,
Roscommon. 
You can also order certificates online
GRONI
Telephone: 0300 200 7890 (from Northern Ireland)
Telephone: 0289 151 3101 (from elsewhere in the UK)
Fax: 028 9025 2120
Monday to Friday, 9:30am to 4pm
By Post: 
General Register Office for Northern Ireland 
Oxford House 
49 - 55 Chichester Street 
Belfast 
BT1 4HL
You can also order certificates online 
---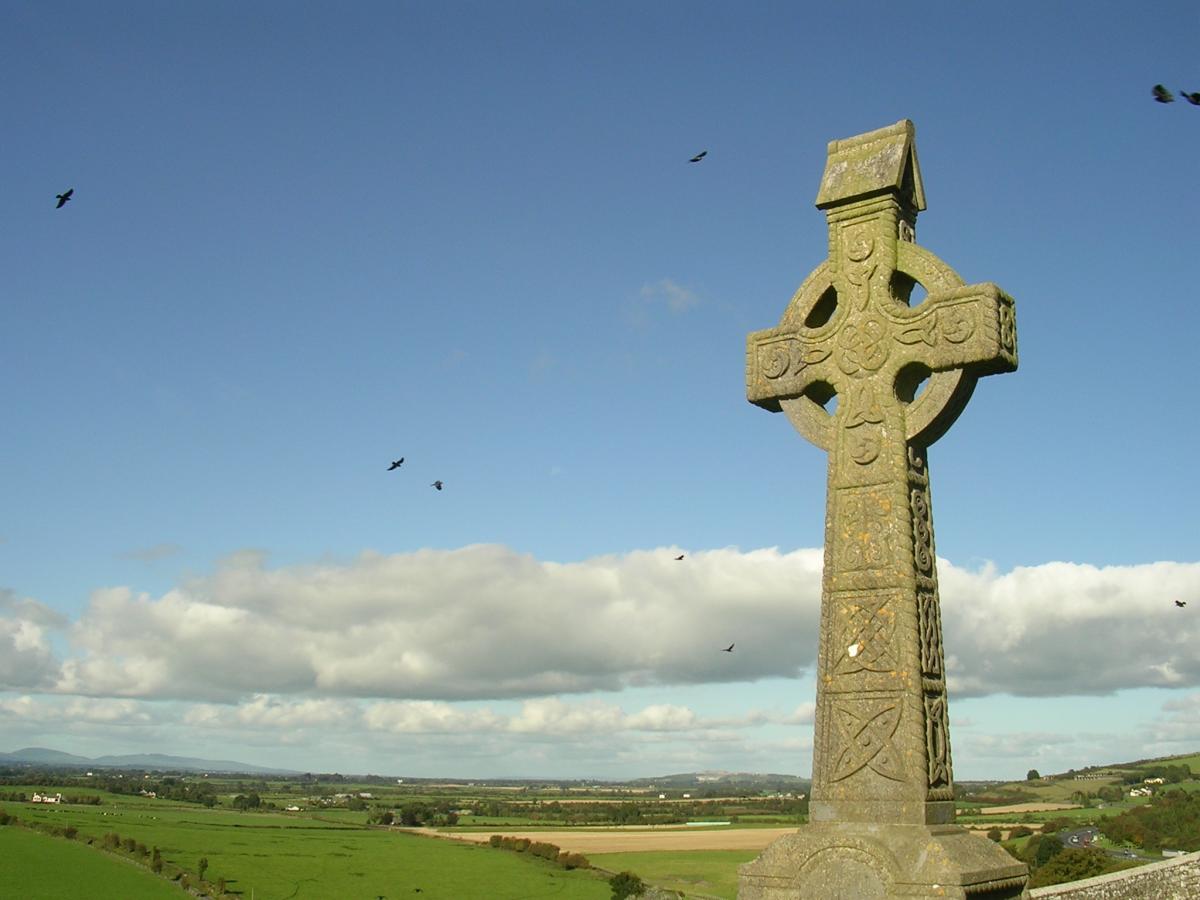 Picture: Limestone High Cross
The Irish Ecclesiastical or Church Parish
These areas are a little more complicated! If you are looking for Roman Catholic (RC) or Church of Ireland (Protestant) records you will have to look at the Church Parish. The originals are usually retained locally as bound leather volumes. 
Generally they contain the following:
Baptisms: date, child's name, father's name, mother's pre-marriage name, sponsors or godparents. Sometimes the residence of the parents is included. In some records too, entries are made in Latin

Marriages: date, names of parties marrying, residences, occupations, ages, fathers' names, witness names

Burial: not very consistently kept for RC records - those extant often include name, date of death, residence, religious denomination, gender, informant details
Another thing to consider is the fact that many Roman Catholic Diocese have changed and/or amalgamated over the years. Some RC Parishes in Ireland also share the same name which can add to your confusion. It is useful then to think about the Parish as part of its Diocese or Archdiocese.  
So, if your parish is not mentioned on our website it will mean that you should 'convert' to the Civil Parish. You can do this by looking at a map of Church Parishes and then comparing to the Civil Parish Map and then join the relevant parish on our website. We will shortly bring you a Parish Converter tool to help you with this. These sites too are very useful: Index of Townlands  by the Irish Genealogical Research Society and Parish Links by Shane Wilson
In summary, what you need to know...
You will need the Roman Catholic Parish name to search National Library of Ireland Registers.  FIND OUT MORE HERE
You will need the name of the civil Parish to join your Ireland XO Parish HERE
Order a certificate at the GRO or GRONI
---
What next?
LOCATE your Civil parish of origin: IrelandXO Insight - How to locate your parish of origin
JOIN your Civil Parish(es) on Ireland Reaching Out HERE
Can't find your parish? Post your query to our Message Board