With the passing of Summer, we wanted to celebrate the achievements of our volunteer network by sharing some of the meet and greets they facilitated over the Summer season.  Don't forget you can hit the share button at the top of the screen to share this article on your social media page.
Finding out where in Ireland you come from is not the end of the story but rather the beginning of a new relationship with the town/village your ancestors once lived in. As an organisation, we were founded 14 years ago, it wasn't until 2015 that the new website was launched helping us reach out to even more people around the world. We registered more than 150,000 members since then and answered more than 40,000 queries on the message board! Our key focus remains on welcoming our Irish Diaspora family back to the towns and villages they are descended from. With a volunteer network that stretches the entire country, we try to ensure there will be a local person or group to welcome anyone of Irish descent back to their ancestral hometown. From homesteads to headstones, school roll books to church registers our local volunteers have searched them all in the hope of helping someone connect with their Irish roots.
This Summer, hundreds of visitors have been welcomed back to rural communities all over Ireland - meeting cousins for the first time, walking in the footsteps of their ancestors, and discovering more about their unique Irish heritage - all with the help of local Ireland Reaching Out volunteers. 
---
The Egan Homestead in Meelaghan Tullamore, County Offaly
Joyce visiting from Arizona arrived in Ireland in early May eager to visit the homestead of her ancestors but needed help pinning down it's location. It was the home of her 4th, 3rd and 2nd grandfathers, Bernard, Howard and Howard Jn Egan. IrelandXO volunteer Liz Watney had researched the homestead and knew the family connection. She was able to tell them exactly where it was, pictured below is Joyce outside the homestead where she also met with our friends at the Offaly Historical Society. 
Except from Overview of Major Howard Egan's Life. Howard Egan was born on June 15, 1815 in Tullamore, County Offaly to Howard Egan and Ann Meade. Baptism record of Killeigh Parish, Tullamore indicated he was baptised on September 20th, 1815. Howard Jnr was the sixth of eleven children. In 1823, when he was nearly eight years old, his mother died and his father took him and nine of the ten living children to Canada. The youngest child, Margaret was left with an aunt. They arrived in Quebec and on June 7th, 1825 and took the steamer to Chambly up the river to Montreal. Three weeks after they arrived, little Eveline died on July 1st. Three weeks later, eight year old Ann also died. A week later, 15 year old Bernard died. Three years after this, their father Howard Egan (Sr) died at the age of 46. You can read their full story here. Pictured below is an image of the original Egan Family Cottage.
---
Ken Baulderstone explores his Gilchrist, Dawson, Reeves, Benson, Graney, Sullivan, O'Brien and Foley Roots 
Ken together with his wife Glenys were visiting from New Jersey with strong connections in four counties, Galway, Kerry, Limerick and Clare. Four volunteers were on hand to help Ken discover more about his Irish roots. Sue Cohen met with Ken in Galway, Jane Halloran Ryan in Clare, Jennifer Jenny McDonald in Kerry and Tim O Connell in Limerick
Tim summarised the backstory to their Limerick visit below.
Ken Baulderstone is the great (x2) grandson of John Dawson and Mary Reeves. In the 19th century they lived in the townland of Tully, parish of Glenroe (civil parish of Darragh). Parish records do not go back before 1853 but a great grandson, Brendan Hennessy, had a rare extract of the 1851 census obtained by his grandmother for pension purposes that told him John and Mary married in 1844. Two of their children Mary (B:1857) and Patrick (B:1859) emigrated to Australia in 1877 while Brendan Hennessy's grandmother Ellen Dawson remained in Ireland and married his grandfather Michael Hennessy. Ken's great grandmother. Mary Dawson went on to marry Thomas Gilchrist from County Galway after she arrived in Australia. 
The Dawson and Reeves families were laborers and the Dawsons moved around locally for work. John Dawson can be found in different locations at different times on the Valuation Office revision books. At the time of Griffith's Valuation the Dawsons were living in the townland of Ballyshane but moved a short distance to Tully around 1870 closer to the Reeves homestead. The information in the Valuation Books was very useful and allows the positions of all three home to be located very precisely using associated maps.
In Glenroe, Tim took the Baulderstones to visit the parish church where the Dawsons were baptised  and the schoolhouse building next door which is now the Glenroe Community Centre. They also visited the Darragh graveyard where Tim introduced them to a distant cousin Brendan Hennessy who pointed out the location of some of the Dawson graves. Brendan kindly invited everyone to lunch in Mitchelstown where alot of family information was shared. 
 Ken described it as a "surreal experience". Read what Ken had to say in his own words here 
Picture: Ken with distant cousin Brendan whom he met for the first time at the graveyard of his descendants and Ken with his wife Glenys at the baptismal font in Glenroe Church 
READ MORE: Griffith's Valuation and Cancelled Books
---
Mary Ann Murray Explores her Russell Connections in Templemore, County Tipperary
The end of May saw the wonderful Mary Ann Murray land in Ireland to celebrate her Irish heritage. Visiting from Iowa, she had strong connections to Templemore, a large town in County Tipperary. She was looking to find relatives of Patrick Russell born March 16th 1825. Patrick was Mary Ann's GG maternal grandfather. She had a good bit of her research done already. Patrick came to America in 1839 with his father Edward Russell (1786 - 1865) settling in Iowa where Mary Ann still lives. His mother, Janna J Bergin tragically died in childbirth. Local IrelandXO volunteer Mary D'Estelle Roe was on hand to welcome Mary Ann back to her ancestral home town and even connected her with a third cousin. She spent the next three days with him connecting over their shared heritage.
Pictured below is Mary Ann with Kin of hers in Templemore. 
 Following the meet and greet Mary Ann wrote to us to say
'I am just the luckiest lady in Ireland! Mary and her husband CJ had done an incredible amount of work re my kin in Templemore. CJ saw to it I met Joseph and Johnnie (brothers in stocking cap) large sheep farmers, kin of mine. I thought I was in heaven! We went to graves and old properties of my kin too. An absolute dream come through'
---
Descendants of Peter Robinson Settlers Return to Ballydaheen, County Cork
In Canada today there are perhaps hundreds of thousands of people of Irish heritage descended from more than 2,000 people who travelled from Ireland in the 1820's as part of an experimental assisted emigration scheme ran by Peter Robinson. To read about more the scheme click here. For a full list of those who travelled from Mallow on board the HEBE click here.
Linda, the family genealogist had been researching her O'Regan ancestors for quite some time. Her ancestor Daniel O Regan left Ireland in August 1823 accompanied by six children. When searching for any family Daniel may have left behind  she found details of John, Daniel and Patrick in Ballydaheen in the 1823 Tithe Applotment books. Further searching revealed that John had stayed in Ireland and was buried 40 minutes away in  Ballinamona graveyard, County Cork. Linda's cousin Tara was visiting Ireland so she armed her with the information and hoped she would be able to locate the burial site.  Pictured below is Tara alongside IrelandXO volunteer Kiernan visiting the resting place of John O'Regan died 1830.
Following the visit Linda wrote;
'I reached out to Ireland Reaching Out and Kieran Jordan volunteered to meet Tara and help locate John's resting place. Here are pictures of the success and joy we had  finding John (or as I believe John led us to his spot) Thank you to all those who helped in this search'
READ MORE: The Peter Robinson Settlers
---
Descendants of John Heffernan who emigrated to South Africa return to Kilorglin.
Our first meet and greet from South Africa this Summer was Jacqueline looking to reconnect with her great grandfather John Heffernan who emigrated to South Africa over a hundred years ago. John Heffernan was born in Douglas in 1882 to Maurice Heffernan and Bridget Diggin. Maurice was the son of Thomas Heffernan and Julia Skeelty.  IrelandXO volunteer Joan Holland was on hand to help with the research and manged to locate the homestead of Jacqueline's ancestors aswell as the burial site of some of his relatives. Pictured below is Jacqueline standing outside the homestead, Douglas National School and with IrelandXO volunteer Joan Holland.
Following the visit Jacqueline wrote to say;
 We had an amazing day with Joan, first we went to the graveyeard to search for family members buried there. Then we travelled to Douglas, a tiny community where she asked some locals who had lived there for generations and they showed us where the Heffernas had lived. We saw the local primary school where my grandfather was enrolled. Joan was kind enough to give me her research which included new information which was very exciting. I can't stop telling people about her and Ireland Reaching Out. I would never have been able to do this without you.
---
The Brunner Family return to Shanagolden, County Limerick
Wendy's great great grandfather Daniel J  O Connell was born in Shanagolden on May 22nd,1866 to father Daniel O Connell a baker and mother Bridget Kent (died 1874). Daniel and Bridget had ten children in Shanagolden from 1854 to 1871. Daniel emigrated to the US in 1890 however Wendy had no information about his time in Ireland before that except that in 1883 (17 Year old) he was listed as a monitor at the National School and in 1887 (21 year old) he was listed as an assistant at the same National School.  Following extensive research by IrelandXO volunteer Jennifer Jean, it was discovered that their ancestors actually lived in Foynes and were employees in the works of Riordans in nearby Shanagolden.  Later they moved to Ardagh and there is was discovered they had a bakery where the shop still remains.
Pictured below is Daniel J O Connell, Wendys' great grandfather. Also pictured is Sean Difney and Wendy taken by IrelandXO volunteer Jennifer Jean on 18th July 2022.
Following the visit, Jennifer Jean wrote to say
What a day we had! Wendy was looking for her O'Connell connections from Shanagolden or so she thought! By searching several different avenues we concluded her ancestors actually lived in Foynes and was an employee in the worlds of Riordans in Shanagolden. Later he moved to Ardagh and there he did indeeed have a bakery. the shop remains but is up for rent and another property that bore the O'Connell name was the public house on the crossroads- this still has the name O'Connell but is now a private house. The day took us several places a drive into Foynes with the added excitment of getting into Glin Castle. The end of the day took us to meet with Mary Kurt a great historian in the area. 
---
The Loughran family arrive in Donegal to explore their Coyle and Heraghty Ancestry
The Loughran family came to explore their Coyle and Heraghty ancestry. Nancy's mother in law is the grand-daughter of Annie Coyle born in 1854 in Clondavaddog, County Donegal. Her parents were Anthony Coyle and Sophia Heraghty, she was one of six children who all emigrated to the US. Annie had a very difficult time her last few years in Ireland, losing her first husband, Patrick Doherty at age 26 to a brain tumor just two weeks after their only child was born in 1880 in Derry. Her family rallied around her, helping provide passage and she emigrated to the US in 1882 with her young son, father (Anthony) and a sister Mary, whose husband had emigrated earlier to work in NYC and save.
With only a day to spend in the village of Ballyhork where Annie was born, Nancy and her family wanted to make sure they were travelling to the right location in Donegal to see the church where Annie Coyle was baptised in Clondavadoc as well as getting to the area in South Ballyhork where they believed the family resided during the Griffiths Valuation of 1858. IrelandXO volunteer Seamus Callaghan was able to draw up some maps and information that would take the Loughrans to the family homestead, church and graveyards of their ancestors. Pictured below is the Coyle Family Homestead in Ballyhork South, County Donegal. Also pictured below is Catherine and son Daniel standing outside the property where Annie worked as a servant before marrying in 1878. 
Following the visit Nancy wrote in to say,
We cannot thank you enough for your incredible guidance in helping us on the Donegal/Derry heritage tour for my mother in law Catherine. We found the church and homestead location without any issues thanks to the great maps you provided. My mother in law just couldn't believe she was visiting where her grandmother (Annie Coyle) was born and repeatly said 'I wonder what my mother would think' as her mother born in 1893 could never have imagined travelling to HER mother's Irish homeland.
---
MaryBeth returns to County Laois to discover the lands of her Great Grandfather Patrick J Gray
MaryBeth arrived in Ireland early July looking to find out more information about the life of her ancestor before he emigrated to the United States. MaryBeth knew her ancestor Patrick J Gray was born February 1882 in County Laois to parents Thomas Gray and Julia Keeffe. He died in 1964 aged 82 in New Jersey. From her research she was able to establish Patrick was one of eight children, 7 boys and 1 girl. MaryBeth wanted to see the area they lived in and know if there are any remaining members of the family living there. She was met with local volunteer Paddy Lacey who was able to show MaryBeth, the homestead, church, school and area where Patrick would have grown up before emigrating at 17 years old.
Pictured Below. MaryBeth & IrelandXO volunteer Paddy Lacey and MaryBeth and friend Molly pictured outside of Shanganamore National School where her ancestor Patrick was enrolled.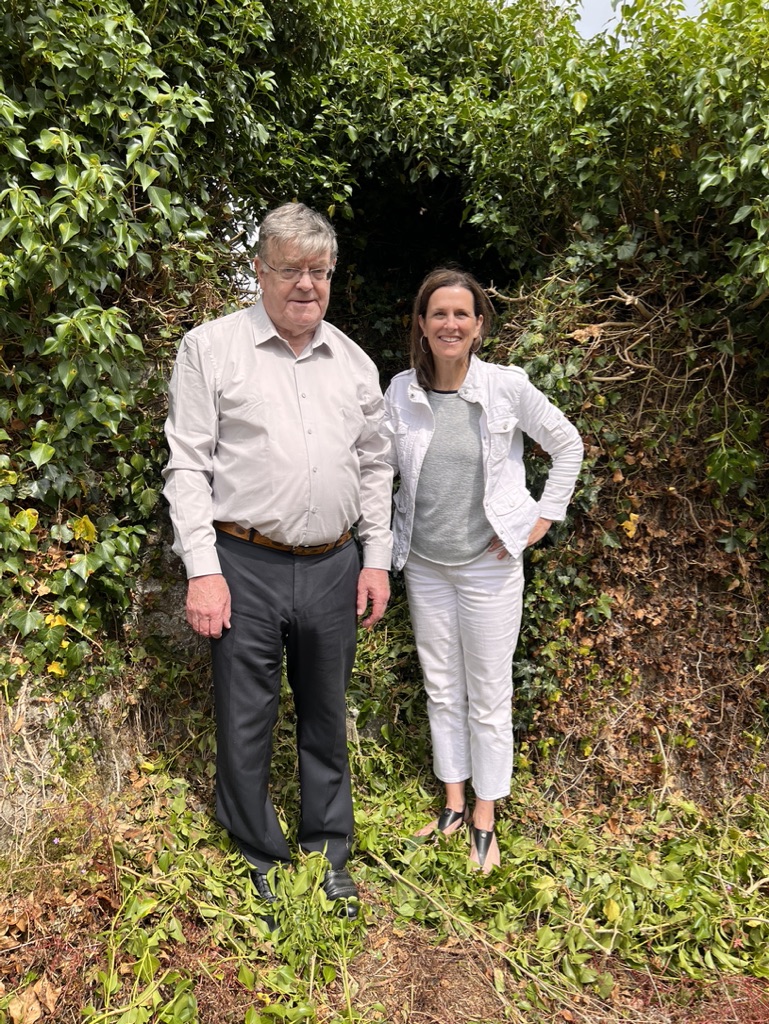 Following the trip Mary Beth wrote in to say;
My friend Molly and I had a fantastic time exploring many areas of Ireland but a highlight was our day spendt exploring the midlands with Paddy. He was informative, friendly, funny and knowledgeable about the area. It was obvious that he had alot of the legwork done before we arrived. I was thrilled to visit my great great grandfathers ancestral home, the church were they married, the local church and the school they attended as well as the surrounding area. All narrated with historical content. Ireland Reaching Out is an exceptional programme.
---
Randall revisits his McNamara Roots in Birr, County Offaly
Randall knew his ancestor John McNamara was born in Ireland probably between 1831 and 1835 to James and Ellen. He married in Boston in 1856 to Celia Sheridan born in County Donegal. Despite looking through the Tithe Applotment Books for Donegal in the 1820's/1830's and Griffith's Valuation for Donegal in the 1850's there was no record of James McNamara so he concluded James was unlikely to have come from there. After extensive research Randall discovered that his McNamara ancestors were from the Birr region of County Offaly. Pictured below is Randall and IrelandXO volunteer Margaret Hensey.
Read below what Randall had to say following the visit
Many thanks to Margaret who graciously took me to local churches (site of ancestors baptism, marriage and death). She also searched the databases, described the region of my kinfolk and provided a genuine connection to the land and the people. Unlike past trips, this one was based out of Birr with no set agenda. Just walking and driving around remote villages and towns where there was archival trace of a wayward McNamara passing through!
---
Sharon Explores her O' Flynn Ancestry in Kilworth 
Sharon's great great grandfather was the 8th of 12 children, Patrick Flynn was born March 15th 1860, to parents Timothy O Flynn and Bridget Swayne. Sharon wanted to explore the area her ancestors lived. 
Kieran met Sharon and her daughter Carrie in Kilworth, County Cork late July. He was able to show Sharon where Timothy Flynn had occupied land. He was abe to share with Sharon that the land was taken over in 1894 by the British army for a training ground and each tenant including Timothy was compensated for the disturbance. Kieran actually had written a book many years ago (pictured below) on the Kilworth ranges so was well placed to to share information on the maps and the locations of each holding including Timothy's. and how much compensation the tenant and landlord received. He gave Sharon a copy of the book. Pictured below is Sharon with IrelandXO volunteer Kiernan.
---
Christie Whelan visits from Pitsburg to walk the land of her Ancestors in Ballinahinch, County Clare
Christie was searching for information about her Whelan ancestors who were left orphaned in the late 1800's. They were put into an industrial school in Birr before they emigrated to New York to cousins out there. IrelandXO volunteer Jane was able to help Christie reconnect with cousins in Ballinahinch where her ancestors lived and also showed her the farmhouse which was still standing (recently uninhabited) She met cousins walked the farm and made some new connections which she is continuing to work on back home. Pictured below is Tulla volunteer Michael McMahon, Christie Whelan and IrelandXO volunteer Jane Halloran Ryan.
You can learn more about Irish Workhouses HERE 
---
Read More
Transatlantic crossings: Irish Immigration via New York Ports (1820-1950)
A beginners guide to Irish Surnames
Researching Irish Burial and Death Records
Irish Emigration Sources - Webinar
---