Written by Genealogist Jane Halloran Ryan, this guide provides an overview of the often overlooked records of the Landed Estate Court.
Until about 1900 the majority of land in Ireland (97% in 1870) was rented out to tenant farmers rather than used by the owner himself. There were probably fewer than 10,000 proprietors of 100 or more acres in 1830 but this number included many who owned relatively small estates. In 1870, 302 proprietors (1.5% of the total) owned 33.7% of the land, and 50% of the country was in the hands of 750 families. These lands were divided into smaller sub-lettings with long leases often lasting three lifetimes.
in 1843 there were 12,529 tenants on the Trinity College estate, but only 1% of these paid their rent to the college; 45% were sub-tenants of this small number and over 52% were sub-tenants of the sub-tenants.
A Background To Landed Estates in Ireland
Landed estates were in large held by usually Anglo-Irish families who gifted lands confiscated by the British in the 17th century. Generally speaking, these lands were rented to tenants who often sublet the land in smaller parcels to other tenants. A lease could be held by a tenant for up to 21 years or 3 consecutive lives. These landed estates were the center of Ireland's rural economy at the time. By the mid-19th century, most of the Irish lands were owned almost entirely by Protestant landlords.It is estimated that between the years 1850 and 1858 around 8,000 estate foreclosures were handled. The Great Famine of 1845 meant that tenants no longer had the means to pay rent and subsequently landlords went into debt.  What followed was the introduction of the first of three acts that look to record to sale of those lands that were indebted. 
Image: Druminshim Glebe in the civil parish of Carrigallen, County Leitrim - Rev. James Agar held this property at Druminshin Glebe freehold at the time of Griffith's Valuation when it was valued at £30. The property seems to have been known as Carrigallen Glebe or Carrigallen Lodge at various times though it is recorded as Druminshin Glebe house on the first edition Ordnance Survey map. It is still extant and occupied. Courtsey of Landed Estates, NUI Galway 
READ MORE: 10 FACTS ABOUT LAND OWNERSHIP IN IRELAND
The Landed Estate Court was set up in 1858 to deal with the transfer of estates from bankrupt landowners. The term "Landed Estates" was used to describe those estates which were held and occupied by families who were given the lands which the British confiscated from Irish landowners in the 17th century.  These landed estates were the lands that would later make up the Landed Estate Court Rentals collection. During and immediately after the Famine, many of these landowners came under financial pressure as a result of the inability of many tenants to pay rent.  The Encumbered Estates Act was created in 1849 and this Act allowed a debtor to bring an insolvent landowner into Court to force the sale of his lands if his debts were unpaid.  
This system was later changed to the Landed Estates Court Rentals which dealt with the sale of these estates from about 1850 until 1875 when the Court system became known as the Land Judges Court.  Over the course of the Landed Estate Court Rentals, there were more than 8000 estates that were sold under this system.  The Landed Estates Courts created a sales catalogue or "terrier" for each estate.  These estate documents (or terriers) included particulars about the type of tenure, a list of tenants, the type of property and detailed maps.  The sales were often arranged by name of estate or by landowner.  
Image: In the Matter of Thomas McMahon, 12 November 1857
The information contained within these sales is very useful for genealogists and local historians.  Many of these sales were made with tenants already in place and their names were often included along with the particulars of their tenancy such as tenant terms, property acreage, names of fields and amount of rent.  These tenancies were often created well before the Famine years, and with the destruction of many documents in the Four Courts Fire, this collection is invaluable for placing family members in a particular location at a particular time. To some extent, it can be a Census substitute as to location and date of a specific family.  
In addition, very detailed maps were included within these sales.  These maps were drawn up to contain as much information as possible for a prospective purchaser.  The maps often included place names and other details that no longer exist in living memory.  Place names were based on descriptions of the land and those who lived there, so that they can be good clues for family and local historians in their research. 
Search the FREE database of landed estates and historic houses in Connacht and Munster HERE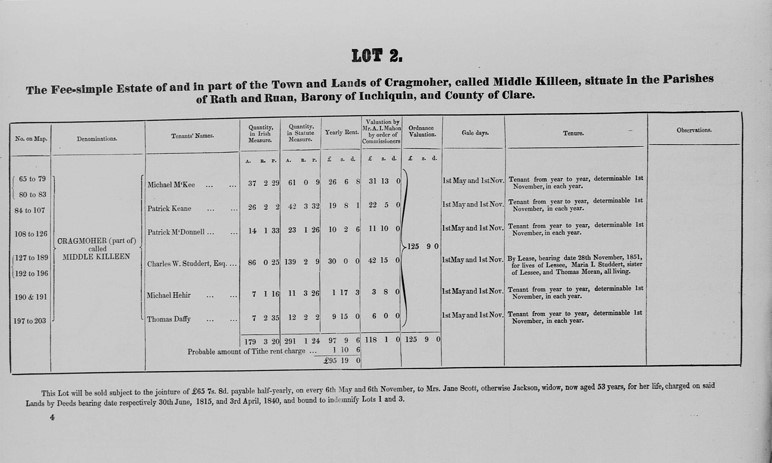 The terriers can run from just several pages to more than a hundred pages due to the size of the estate being sold and the number of properties, lists of tenants and other accompanying documents.  
An example of the value of this source occurred when I was asked to undertake research for a family whose Catholic family owned land in the 19th century in a specific county.  In addition, I discovered that they also leased land from a large estate which came up for sale during the Landed Estates Court Rentals period.  My research uncovered a parcel of land that a member of this family held on behalf of several lives including the lives of several of his sons whose names were given and their order of birth.  This information allowed me to confirm the existence of several other children and resulted in an expanded family tree for the descendants.  
Some of the maps are also valuable as they show not only land, but also illustrations of the fair greens and of the villages.  
FAQ 3: How to Search the Records
The collection is held at the James Hardiman Library at University of Galway, Ireland.  The collection is also available to view at FindMyPast.ie or Ancestry with a subscription.  We always advise signing up to a free trial subscription first to see if there are useful records. The records are searchable by name of an ancestor or last residence. Also, don't forget to search the FREE Database of Irelands landed estates and historic houses HERE
The Lot map records will hold the following information
Estate owner and title
Parish
County 
Surveyor's name and address
Ordinance sheet number
The tenant list records will hold details such as
The tenants' full name
Number of the map
Quantity of land
Irish plantation rents
Annual rent
The day on which rent is due (Gale days)
We searched the record for the family name Cleary and found repersenatives of Robert Cleary occupied over 700 ares of un
---
About the Author 
Jane Halloran Ryan is a professional genealogist who founded Dalassian Origins Family Research and Genealogy Services in County Clare.  She received her M.A. in Local History with Honors from the University of Limerick in 2017.  Her dissertation was entitled "Agrarian Outrages in the Parish of Tulla, County Clare 1852-1894".  Jane is currently a fourth year PhD researcher at Mary Immaculate College in Limerick. Her thesis focus is on networks between Irish and Irish American communities and their assimilation into Irish American culture in the late 19th century.  She is focusing her thesis on one family from a specific area in County Clare and their migration to Norwalk, CT over several generations. 
Jane was recently awarded a grant from the Cushwa Center at University of Notre Dame for her research proposal entitled "Bridging the Emigrant Gap:  The Norwalk Catholic Club 1897-1940".  Jane has published articles in Slieve Aughty (2014), Reflections from Home and Abroad (2016-2020), The Other Clare (Vols. 42 (2018) & 43 (2019) ), and she has most recently published "Clooney Graveyard", a survey of the Clooney graveyard in Clooney/Quin parish, County Clare.  Jane has recently contributed articles for the Quin Heritage website about the Singleton family of Quinville and Hazelwood Houses.  Her published articles have included the life of Fr Patrick Sheehy, Tenant Right priest of Tulla Parish; James Molony, Kiltannon Landlord and Entrepreneur; William Mills and Marcus Molony of Kiltannon; Forges in the parish of Tulla, Clare; and the Church of Ireland window from Tulla, County Clare.  
You can contact Jane directly here 
---
Read More