Emigration impacted not only those who left Ireland but also those who remained. Families were separated, sometimes never to see each other again. Uncles and aunts were known because they sent home money in welcome letters but their faces are never seen again in the country of their birth. In these letters, often dictated by others as many emigrants were illiterate, we hear the voices of our ancestors. The farewell at the Irish port must have been unbearable both for those who left as a family unit and for those families soon to be separated by thousands of miles. By the beginning of the 20th Century, almost as many people born in Ireland lived outside the country as in it.
Picture: from the National Library of Ireland collections
As a great number of Irish emigrants entered the United States and Australia and various other places at times of industrial and economic growth, they found themselves building schools, banks, hotels and providing all of the services needed to keep them up and running. At the same time as these new entrants were working to forge ahead in their newly adopted countries, their family members left behind in Ireland were continuing with their own lives, never forgetting those no longer with them. They continued going to work in factories and offices, making the hay, celebrating Christmas, noting the weather, collecting the eggs and making brown bread and butter.
The Dunlops were one such family were brothers were separated by emigration. James Dunlop Williamson was born 14 September 1860 at Claggan Cottage on the family farm in Aghadowey. He was the 7th of 8 children of Hugh Williamson and Sarah Jane Caskey, his middle name from his paternal grandmother Jane Dunlop. James remained in Ireland, carving out a successful career in medicine and local politics while his oldest brother Hugh left for New Zealand.
According to his obituary in the British Medical Journal, April 1944, James gained his medical qualifications of Medical Doctor, Master of Surgery, and Master of Obstetrics at the Old Royal University of Ireland, and later took up General Practice in Belfast and joined the staff of the Ulster Hospital for Children and Women, where he remained the consulting physician until his death. He was elected a Councillor to the City of Belfast in 1900, later becoming High Sheriff and in 1941 Deputy Lord Mayor. For many years he served on committees for public health, tuberculosis, and maternity and child welfare and his interest in public health led to papers on sanitation and sewage purification. For his services to Belfast, he was made a Freeman of the City a short time before his death. He had been a member of the British Medical Association for 56 years. Alongside his many achievements, James experience both happy and sad times in his personal life.
In 1894 James married Gabriela Bulloch, and their son James Dunlop Bernard Williamson was born the next year, but only lived for five months. His daughter Dorothy Sarah was born in December 1897 and remained their only surviving child, she didn't marry. His married sister Jane Dunlop Lytle also lived in Belfast at this time, they were the only ones in the family who didn't emigrate; she and her husband also lost three babies and raised one daughter Elizabeth King Caskey Lytle, who also didn't marry.
James's contribution to his local area continued after his death as reflected in the list of charitable bequests made in his will. In 1944 his will declared his wish to donate £150 to the Minister of his home parish Presbyterian Church to maintain the family burial ground, £150 to Portrush Presbyterian Church to maintain a family burial ground there, £1,000 to Coleraine Academical Institution specifically for the education of boys whose parents needed financial support, £1,000 to the Senate of Queen's University to be used as part of a medical research prize and £1,000 for the Ulster Hospital for Women and Children.
While James and his sister were living their lives in Ireland with all of the fears, concerns and joys that this brings, his brother Hugh was working in New Zealand. The entry in the Williamson Family Bible reads 'Hugh Bellis Williamson was born in Portrush on 27 August 1848, at 1 o'clock on the Sabbath morning'. His next three siblings were born in Portrush, the remaining four at Claggan Cottage in Aghadowney.
When Hugh married Jessie Marguerite McAllan in St Michan's church in Dublin on 11 Dec 1875, his occupation was listed as a mercantile clerk, but he must have been working there as a pharmacist as this was his occupation for the rest of his working life. After the marriage entry in the Bible, there is a note that the couple emigrated to New Zealand in January 1876, following his younger brother Joseph Bellis Williamson who had emigrated 2 years earlier. Hugh worked as a 'chemist and druggist' in New Plymouth NZ from 1876 to 1881 when he was registered as qualified, as was his brother Joseph.
Over the next 10 years, Hugh and Jessie had four daughters and moved to Wanganui, and as the girls grew up Jessie became very involved in the suffragette movement. In 1893 when her youngest child was six, New Zealand women won the right to vote, and Jessie moved on to other political involvements.
In 1904, Hugh returned to Ireland for an extended visit perhaps of several months, during which he presented a Shield to Standtown Chess Club in Belfast, to be used in connection with a Championship tournament. Contemporary newspaper reports only refer to Williamson being a member of Strandtown Chess Club while on an extended trip to his native land, but perhaps it was his old club when he lived in Belfast. It would have been a wonderful reunion for the family, to have the brothers and their sister reunited in Ireland after such a long time separated. Not many families experienced the joy of this type of meeting.
Hugh and Jessie moved from Wanganui to Auckland on his retirement, and he was a founder member of the Auckland Chess club, where he was the secretary for many years, and vice president by 1926. It was in 1926 that he had a stroke while playing there, which was the cause of his death on 23 March, aged 77 years.
For another set of brothers, despite having to leave Ireland, Timothy had the relief of his brother Daniel joining him.
Timothy Wholey was born in Kilkillleen to Bridget Shannahan and  Patrick Wholey. His baptism was recorded on 12 June 1853 in Aughadown Parish, Cork as 'Tade Howly'. He immigrated to the United States around 1870 and settled in Massachusetts.
Around that same time, the youngest daughter of Ellen Ryan and Long Dan and Driscoll left Skibbereen to join her sisters in Andover, Massachusetts. Seven years later on 15 April 1877, Catherine Driscoll married Timothy Wholey at St.  Augustine's Church in Andover, MA.  Katie and Tim then moved to Lowell where they raised their nine children: William (b.1878), John (b.1880), Mary (b.1881), Daniel, my grandfather, (b.1883), Joseph (b.1884), Helen/Nellie (b.1886), Margaret (b.1890) who  never married, John (b.1892, and Timothy (b.1894).
In 1875, Tim's sixteen-year-old brother arrived in Boston. The 1881 Lowell City Directory indicates that both Timothy and Daniel worked at Lawrence Manufacturing, one of the many textile mills in Lowell. It also states that Daniel boarded with Timothy at 18 Salem St. in a section of Lowell then known as Paddy's Irish Acre because of the number of Irish immigrants who had settled there. Lowell Mills was famous for its treatment of its Mill Girls who were accommodated in factory owned accommodation and had to adhere to strict moral codes and a work ethic that meant they were employed for up to 80 hours a week. For all employees, a typical day lasted about 12 hours and started at 5 am. Employees worked 6 days a week. By the time the Wholey men began working there the mills were taken over by new management who viewed their employees as they did their machines, assets to be worked. Cheap immigrant labour meant that more often than not, employees were taken advantage of and poorly paid. By the turn of the century, the mills began to go into decline many of them closing or reducing production.
In 1881, Daniel Patrick Wholey married Catherine Dunfey.  Daniel and Catherine had eleven children:  Elizabeth (McNamee b.1882), Rev., Sister Alice Leo (b.1885), William (b.1883), John (Lieut. Lowell Fire Dept. b.1887), Matthew (b.1889), Mary (b.1891), Catherine (b.1893), Daniel (b.1894), Rev. Brother Timothy OMI (b.1897), Helen ( Tully b.1900), and  Rev. Patrick Leo OMI.
Despite the difficulties in the milling industry, by 1885, the two brothers had their own homes in the Pawtucketville section of Lowell: Daniel at Fourth Ave near Mt. Hope Street, and Timothy at Second Avenue.  According to the 1900 Federal Census, Timothy lived at 49 White Street and Daniel lived at 94 White Street.
Tim and Dan also had a sister, Mary Dwyer and on 11 May 1891 the 43 year old widow arrived in Boston aboard the Pavonia  with her eight children: Nellie (b.1875), Dennis (b.1876), John (b.1878), Maggie (b.1880), Mary L. (b.1881), Katherine (b.1884), Timothy (b.1884), Bridget (b. 1886).  The 1900 Census lists a Mary Dwyer and children living next door to Daniel at 96 White Street.
Tim died on 26 March 1906 at the age of 48, and Katie passed away 7 September 1938 at the age of 80. Daniel died in 1924, two years after the death of his wife Catherine and Mary Dwyer on 20 May 1935 at the age of 87. All are interred at St. Patrick's Cemetery, Lowell, Massachusetts.
All of these families, both far and away made important contributions in their local communities and their descendants remember this to the present day.
Click on the images to learn more about the people that inspired this Chronicles Insight.
James Dunlop Williamson 1860
Hugh Williamson 1848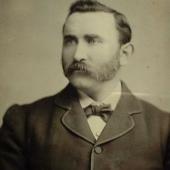 Timothy Wholey 1841
Did your Irish ancestor emigrate with their brothers? Perhaps they were reunited after many years. Share their story on the XO Chronicles and connect with their place of origin and those connected with the same place, living around the world today. 
Add your Ancestor to the XO Chronicles
This Insight has been produced with support received from the Heritage Council.