Tom Crean, is famous for his bravery and acts of heroism that were undertaken on the coldest and most inhospitable place on the planet – Antarctica. In 1913 he became one of the rare recipients of the Albert Medal for bravery. He was awarded the medal for undertaking a 35 mile solo march through snow, ice and blizzards to save the life of Lieutenant Edward Evans. Along with Sir Ernest Shackleton and Frank Worsley, he also played a primary role in the historic rescue of his colleagues while serving on the Endurance expedition between 1914-1916.
Background and Crean's Pre-Antarctic Career
Born on or shortly before February 16th, 1877, into an impoverished existence, Tom Crean, one of 8 brothers and 3 sisters born near Annascaul, County Kerry, joined the Royal Navy in July 1893. Joining the Navy had been a longstanding and traditional route of escaping poverty for the sons of the Dingle peninsula and with little else on offer to change his fortunes, Crean made his way to the navy coastguard station nearby Minard.
Tom Crean
Tom Crean Statue
Dingle Peninsula
He was almost 16½ years-old when he signed up and following a harsh training period aboard HMS Impregnable on England's south coast, Crean was deemed ready to undertake his first naval assignment.
HMS Impregnable
Still a boy sailor, Crean was ledgered to the ship HMS Wild Swan in December 1894 as she headed out of Plymouth bound for the Americas. On reaching Valparaiso in Chile, Crean would join the crew of the Pacific Station's flagship, HMS Royal Arthur. His time aboard the vessel would bring him close to armed conflict in a stand-off with Nicaraguan rebels at the port of Corinto and for the young Irish sailor, his first active assignment turned out to be a baptism of fire he would hardly have imagined when leaving home two years earlier.
HMS Wild Swan
HMS Royal Arthur
Image: Map showing the extent of Tom Crean's travels before his first expedition to Antarctica
Rejoining HMS Wild Swan after a three-month term aboard the flagship, Tom Crean's career as a young seaman continued during a 3½ year period of service on the Pacific Station whilst based in Esquimalt, Canada. From here HMS Wild Swan would attempt to safeguard the interests of the Crown in an area across the Pacific and its west coast that covered 133 degrees of latitude from the Arctic down to the Antarctic circles. It's strange to picture Crean, noted for his heroic deeds on the ice, serving his apprenticeship in locations that are today considered tropical havens, yet places such as Acapulco, San Diego and Hawaii, were all regions in hotter climes where Tom Crean would leave his footprints.
In 1895 Wild Swan would spend Christmas and New Year in Honolulu before heading out to Tahiti. As idyllic as his travels sound, this was an era when revolutions and uprisings were commonplace across the Pacific and Crean's pre-Antarctic career was more a trial by fire than a leisurely tour of the tropics.
Image; Tom Crean while assigned to HMS Ringarooma.
In the year 1900, Crean would travel thousands of miles once again, assigned to the Australian Station, where more of the same challenges lay in wait. An outbreak of the plague in Sydney saw Tom Crean and the crew of HMS Ringarooma, the ship he was now ledgered to, spend time in quarantine shortly before embarking on a journey to the islands situated off Australia's east coast.
There, troubles were rife with warring tribal chiefs and the continuing battle with the French, at a time when empire-making and territorial disputes were still high on the agenda. Crean's dismay after his return from the three-month tour from hell, was reflected by the second demotion on his service record. Demotions were applied for the slightest of misdemeanours such as smoking a pipe outside of designated times or for returning late from shore leave. We are left to wonder the reason for Crean's downgrade and it is possible that he considered 'doing a runner,' following in the footsteps of a number of his shipmates who had fled Ringarooma after a tour that had clearly taken its toll on all of the crew
---
Sanctuary for Tom Crean came with the arrival of RRS Discovery at Lyttelton, New Zealand, where Ringarooma was present to assist the expedition ship, under the leadership of Commander Robert Falcon Scott, in preparation for her journey to Antarctica. Crean appears to have been among the men chosen from Ringarooma's crew to help seal the leaks that had plagued Discovery on her journey out to New Zealand. It is also possible that he was recommended as a replacement crew member by colleagues on Discovery who Crean had served with in the Americas, among them, William Lashly.
Captain Robert Falcon Scott
William Lashly
Crean's opportunity to alter the course of his career arose when Able Seaman, Henry Baker, fled Discovery rather than face punishment for raising his hand to an officer. On the 10th December 1901, Tom Crean was recruited to Discovery and his contentment thereafter was apparent in a service record that, for the next 19 years, would show only a series of promotions.
In what was officially hailed as a mission of great scientific importance, the aptly named Discovery expedition also provided invaluable lessons for subsequent expeditions to Antarctica. Missions undertaken on Discovery lay down the marker for future attempts to break the record for reaching farthest south and it was a record that, for a brief period, Tom Crean as part of a 12-man sledging team, held. The ultimate prize however, would be to reach the South Pole itself.
The 16-year-old boy who had served a hard, unhappy apprenticeship, had now evolved into a polar explorer with a growing reputation. Crean's value to Scott was evident after the return of Discovery in 1904 and the expedition leader, now a captain, would see Crean rewarded with a promotion to Petty Officer First Class. Further emphasising his worth, Crean would accompany Scott on all of his seagoing naval assignments until they headed south again aboard the expedition ship, Terra Nova.
Terra Nove Expedition
Terra Nova expedition led by Captain Robert Scott
The Terra Nova expedition of 1910, would prove tragic for Scott and his polar party and the fateful drama that unfolded after a failed attempt to become the first to reach the South Pole,  would populate headlines the world over after Terra Nova's return in 1913.
Overshadowed by the news that Scott and the polar party had lost their lives, was another tale of great heroism as the last supporting party of three men made their way back to the expedition base hut. A first-hand account of what happened was relayed to a packed audience as Lieutenant Edward Evans, second-in-command of the expedition, delivered a lecture at New York's Carnegie Hall on St Patrick's Day 1914. His listeners hung on his every word as he relived an ordeal, two years earlier, in which he, William Lashly and Tom Crean, had been ordered to make the return journey of almost 800 miles across Antarctica after reaching a distance of 168 miles from the South Pole.
Carnegie Hall
For Evans the trek they faced would become a struggle for life after he contracted scurvy, a horrific disease that was the scourge of explorers.
Weeks earlier, Evans, Crean and Lashly, had been denied the opportunity to accompany Scott on his mission to claim the prize of being the first humans to reach the South Pole. It was a decision that left all three men bitterly disappointed as they waved their companions off. Recalling the point in their journey when he felt he could no longer continue, Evans lay down on the ice and recalled:     
"When I begged them to leave me, it was Crean who, speaking for both, turned and said to me,

'

If you are to go out sir, then we

'

ll all go out together.'"
The words typified Crean's selfless character as he and Lashly placed Evans on their sledge and covered him up to shield him from the vicious winds. They continued their journey hauling their sick commander across the ice shelf, now with a greater sense of urgency.
When they had reached a point 35 miles from the safety of the expedition's base at Hut Point, Tom Crean embarked upon a solo trek armed only with three biscuits and two sticks of chocolate. In an effort to bring about the safe rescue of Evans, Lashly remained behind to nurse the sick patient as Crean, without the aid of skis, made his way to Hut Point. Crean's heroic act, undertaken in just 18 hours, would see him and Lashly become rare recipients of an Albert Medal for bravery in July 1913
Hut Point
Image; Crean on the Terra Nova Expedition with his great friend, Welshman, Edgar Evans, a member of Scott's ill-fated polar party.
Endurance Expedition: The survival tale of Captain Ernest Shackleton's Expedition
It seemed nothing could prevent Crean from travelling south again and his reputation now placed his services in high demand. By early 1914, expedition leader Joseph Foster Stackhouse confirmed Crean as his Boatswain for the proposed British Antarctic Expedition yet the expedition was later postponed until the following year. Stackhouse's mission had also changed and for Crean, waiting a further year was not an option. He would continue his relationship with the most inhospitable environment on the planet when chosen as Shackleton's second officer for the Endurance expedition in 1914. Endurance would be Tom Crean's third and last expedition to Antarctica and would see him play a primary role in what is considered to be the greatest survival and rescue tale in maritime history.
Sir Ernest Henry Shackleton
Endurance Expedition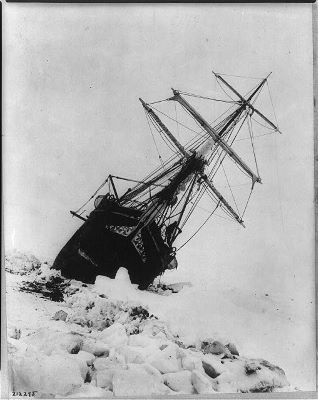 Joseph Foster Stackhouse
Life in Retirement and his Final Days
By the time of his retirement in 1920, Tom Crean had travelled to every continent on the planet, yet it was the challenges back home in Ireland that would test him far greater than any storm or blizzard he had faced in Antarctica. Tom Crean passed away after a relatively routine operation for appendicitis wasn't able to go ahead due to no surgeon being available at the Tralee hospital closest to the public house he doubled as his home - South Pole Inn. Transported the 70 mile journey to Bons Secour Hospital in Cork, his condition worsened and the delay in treatment resulted in toxaemia. At the relatively young age of 61, on 27th of July 1938, Tom Crean drew his last breath. 
South Pole Inn
His Legacy
In the decades that followed, references in the Irish media to Crean's incredible story were confined to a few titbits. It was hardly surprising given that he had served in the Royal Navy at a time when Ireland was striving to break free from British rule. However, with a greater understanding of his story today, any myth that Crean's naval service was an act of disloyalty can be completely dispelled. Tom Crean was a dyed-in-the-wool Irishman who carried a fierce love of his country with him wherever he travelled.
In total, Crean was responsible, jointly or individually, for saving the lives of 29 of his colleagues over the course of his three expeditions. His acts of heroism in an era when glory and prestige were reserved for those at the upper-end of the class spectrum, meant that Crean's story remained largely in the shadows while the tales of his leaders remained centre-stage. The 1990s would bring a resurgence of interest in Crean after an article written by the journalist and historian Ryle Dwyer, questioned why this remarkable man had not been recognised. He made the point that such honour would have been bestowed upon Crean had he been of the officer class. After the turn of the millennium there followed a biography and a popular advert for a well-known Irish Stout would help bring Crean's name to a wider audience.
Ryle Dwyer
New information and the revisions made necessary after the release of the biography Crean - The Extraordinary Life of an Irish Hero, by Tim Foley
Tim's research on Crean's life and career began in 2017 and it became clear to him that revisions and corrections to the storyboard of Tom Crean were necessary.
After submitting his entire research to the Royal Irish Society in 2020, the new information he had sourced and transcribed to the biography Crean - The Extraordinary Life of an Irish Hero was examined. This later led to substantial changes being applied to the entry for Crean in the Dictionary of Irish Biography in March 2021. Along with the account of Crean's pre-Antarctic career, the stories and events that make up just some of the new information he unearthed include:
The expedition leader who sought out and secured the services of Tom Crean in 1914, yet who died a hero's death the following year aboard RMS Lusitania.
The veteran of the 1916 Easter Rising who became the first author to write a dedicated account of Tom Crean's time in Antarctica.
The mystery of Tom Crean

'

s assignment to Sierra Leone in 1917
His role on HMS Inflexible during the surrender of the German High Seas Fleet, the final act of World War One
An account of Crean's time on the North Russian Expeditionary force in 1919 when he was reunited with his colleague and captain of the Endurance Frank Worsley.
Frank Worsley
Tom Crean's presence at a 1920 Tralee protest in support of 100 republican prisoners who had gone on a hunger strike at Dublin's Mountjoy prison
References to Crean in oral history interviews that were undertaken with those who knew him
Colourised images of Tom Crean used in this article are with the kind permission of https://www.colorfulpast.com
A few words from the author and his campaign for Crean's official recognition
Tom Crean's story, what little I knew of it in my youth, had fascinated me for as long as I can remember. Visits home to my father's own Kerry birthplace of Keel, Castlemaine would include regular trips to see family in Annascaul. It was there, in the photographs that still adorn the walls of South Pole Inn, the public house that was for many years the home of Tom Crean and after reading an eyeopening 1952 account of his Antarctic exploits, that I was first introduced to his incredible tale.
It spawned a desire to bring his story to a wider audience and to help secure him official recognition from the country of his birth. Thankfully, due to the efforts of a supporter of a campaign to honour Crean that I had created in 2010, our goal was achieved in January 2021 when it was announced that a scientific vessel would be named, RV Tom Crean, in his honour. 
The biography, 'Crean - The Extraordinary Life of an Irish Hero' print version published by Merrion Press has a release date of May 3rd 2023 and will also be made available as an e-book.
Along with the biography written for adults, a fully illustrated children's book, Tom The Mighty Explorer, written for children between the ages of 6-10 - years-old, is now also available in print, audio and e-book versions. Further information and reviews for both the biography and the children's book can be found at https://tomcreanbook.com where you will also find links to booksellers if you wish to place an order. To discover more about Tom Crean visit https://tomcreanbook.com where there is a wealth of information and a series of blog posts that continue to tell his amazing story.
---
With a release date of May 3rd 2023, pictured below is the biography of Tom Crean, titled Crean: The Extraordinary Life of an Irish Hero, published by Merrion Press. The book chronicles the amazing life and career of the Kerry-born explorer who served on three of the major expeditions to Antarctica that pioneered exploration of the frozen continent in the early 20th century.
Serving under the leadership of Captain Robert Falcon Scott and later, with Sir Ernest Shackleton, Crean displayed incredible feats of heroism that almost defied belief. For his epic, lifesaving solo march to save the life of Lieutenant Edward Evans, Crean was awarded the Albert Medal for bravery becoming one of the rare recipients of the honour.
To pre-order the book visit the following website links:
To learn more about the Tom Crean, visit

 

https://tomcreanbook.com where there are a number of resources available for all ages.
---
Why not take some time to explore the ancestors added to the community you have descended from..
If you need help joining the community or town you are descended from, check out our video below.
ALSO READ