If the trends in film and television of the last few yaers are anything to go by, it seems that many of us love to get all caught up in the drama of the upstairs/downstairs life of days gone by. But a little digging into the census and civil records of Ireland can reveal some facts that are even more entertaining than fiction. Let's take a look at the Earls of Clancarty, the LePoer-Trench family of south east County Galway. 
The two main homes of the LePoer-Trench family are Garbally Court in Ballinasloe and Coorheen House in Loughrea. Garbally was the home of the Earl of Clancarty, and Coorheen House was the home of the Dowager. In the early part of the 20th century, the Dowager in residence at Coorheen House was Sarah Juliana, the widow of William Thomas LePoer-Trench, the 3rd Earl of Clancarty. They had six children, including Richard Somerset LePoer-Trench, the 4th Earl of Clancarty. The 1901 census of Ireland lists eight occupants of Coorheen House,
Sarah Juliana Clancarty Dowager Countess Aged 88 Co. Dublin

Margaret Scott Lady's Maid Aged 40 Co. Meath

Mary Panton Cook Aged 47 Co. Wicklow

Margaret Sotheren Housemaid Aged 25 Co. Meath

Mary Hughes Kitchenmaid Aged 26 Co. Mayo

Alfred Irons Butler Aged 28 England

William Morrison Coachman Aged 56 Co. Kilkenny

David Townsend Pantry Boy Aged 17 Co. Fermanagh
The following is an example of what can turn up when you do a little more digging into the backgrounds of the household servants of Ireland's big houses. 
Upstairs Downstairs - Margaret Scott a Lady's Maid and Jess St Aubyn a Butler
Margaret Scott, the Dowager Countess' lady's maid, was born in county Meath in 1861. She was the daughter of a gardener, and like all but 1 of her colleagues at Coorheen House, Margaret was a member of the Church of Ireland. A search of her name in the Civil Records reveals a marriage cert dated April 22nd 1903. Her beloved was a man named Jesse St Aubyn, an Englishman 12 years her junior whose occupation is listed on the marriage cert as "Butler". Since both addresses are given as Coorheen House, it would appear that a whirlwind romance blossomed in the Dowager House, as Jesse was not yet employed there when the 1901 census was taken. The Dowager Countess, Sarah Juliana, passed away 2 years later at the age of 92 from a cerebral hemorrhage. After this, Margaret and Jesse turn up again in the 1911 census. By this time they were living in the idyllic seaside town of Greystones, Co. Wicklow. Jesse was working as a photographer and Margaret had a servant of her own, a girl named Anne McGrath. The story of Margaret and Jesse seems like a romance plot straight from Downton Abbey, although with a happier ending than most televised love stories, and fewer twists and turns than Anna and Mr Bates. 
The Earl and the Actress - LePoer - Trench Household
There were, of course, more scandalous affairs in the LePoer-Trench household. Perhaps the most shocking of all being that of William, the 5th Earl of Clancarty, and Belle Bilton, the famous London dancing girl. William brought an enormous amount of shame to his parents when he became enamoured with Miss Bilton. 
Photo above: Belle Bilton 1889
Born Isabel Maud Penrice Bilton, this daughter of a military engineer would earn fame as a singer and actress on the stages of London under her stage name of Belle. No stranger to public scandal, Belle had a child out of wedlock after an affair with a married American, something which, during the 19th century, would have made her the subject of ridicule and vicious gossip. Not one to be put off by negative public attention, William LePoer-Trench married Belle in secret on the 10th of July 1889, much to the outrage of his family back home in Garbally. They were both 20 years old at the time. William's father, the 4th Earl of Clancarty, did everything in his power to put an end to the marriage. He insisted on a petition for divorce based on the fact that his son was still in his minority when the marriage took place. This attempt to separate the couple failed and they continued to live in harmony, having five children together. 
Photo above: Belle Bilton and William Le Poer Trench, 5th Earl of Clancarty
As the eldest son and heir of the 4th Earl, William's father was horrified by the fact that when he died, his new daughter-in-law would become the Countess of Clancarty, a prestigious title that had belonged to both his wife and his mother. In an attempt to discourage the match, The 4th Earl began to sell off parts of the estate so as to diminish the income that his son would have to support his 'unsuitable' wife. He also cut William off financially. What the 4th Earl didn't understand was that Belle's earnings on the stage were enough to support both her and her husband, and they lived in comfort until William finally came into his inheritance in 1901, making him the 5th Earl and her the Countess of Clancarty. They moved to William's family home in Garbally, Ballinasloe and lived there together with their children, until Belle died of cancer on New Year's Eve, 1906. 
The story of Belle Bilton has recently been written into a novel entitled Becoming Belle, by Nuala O'Connor, an author who is local to Ballinasloe.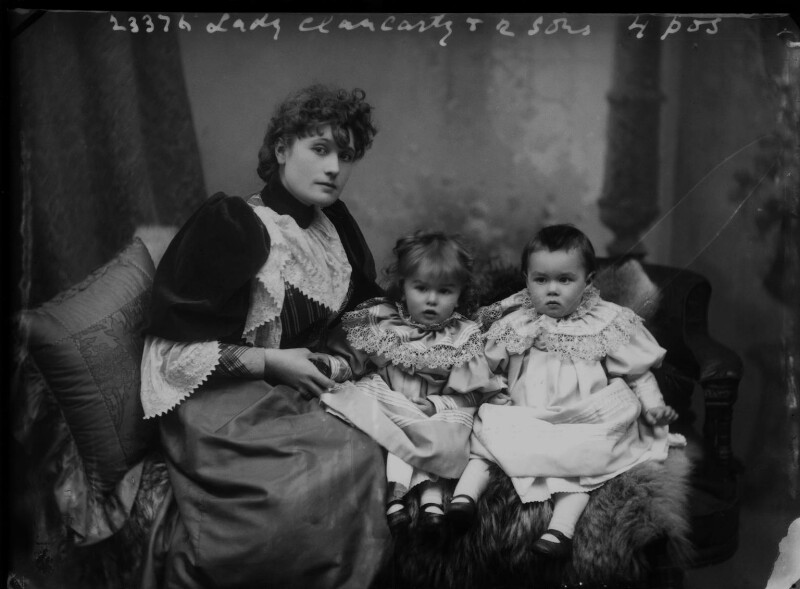 Photo above: Belle Bilton and sons Richard and Power c1993
Romance and scandal, gossip and rumours. These were common forms of entertainment in Victorian times. It just goes to show that when you scratch beneath the surface of these great houses, you can often uncover stories that could easily fit into the plot lines of some of today's most popular forms of entertainment. From Margaret and Jesse's story of rising through the social ranks, to William and Belle's scandalous affair that shook the entire LePoer-Trench family, the stories are there, waiting to be found if we are just willing to do a little digging. 
Click on the images to learn more about the entries that inspired this Chronicles Insight.
Coorheen House
Sarah Juliana Le Poer Trench
Margaret St Aubyn Scott
Garbally Court
---
Read More